Research Group
Parish records from Catholic Parish of Favale di Malvaro courtesy of the Italian Genealogical Institute. Photo to the left is written in Latin. Photo to the right is written in Italian.
The Boschi family has hired Trafford R. Cole & Associates to perform genealogy research on their ancestors. We invite you to join our research group.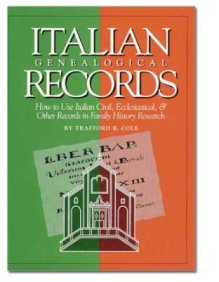 Written by Trafford R. Cole, president of the Italian Genealogical Institute
"The parish records, given that they have been stored for centuries in the cold and humid cellar of the church, are in surprisingly good condition." said Trafford Cole in his report to the Boschis' in 2002.
Mr Cole continues, "Starting with your most recent ancestor, Samuele Cereghino, we began tracing the family back though the years using the baptismal, death and marriage acts. ...We had to carefully connect each family line among the many possibilities. The records, like in most parts of Italy, were handwritten in a mix of Italian, Latin with some local dialect thrown in.

Baptism of Maria Magdalena Cirighino (1737) Blurred handwriting
The ink in the older records, often handmade by the priest, had dimmed or was covered with water splotches and smear marks, and the handwriting became decidedly more difficult to decipher. Even with these many difficulties, research was accomplished with great success. All the family lines at Favale were traced back to the beginning of the parish records with more than a hundred families altogether, with photos of all the acts of the direct ancestors."

Finding YOUR Ancestors
There has been a great interest to try and connect families from Favale di Malvaro. But, most United States and Latin American families of Favale are "stuck" in their genealogical research in the 19th century. The church parish records are the key to breaking this genealogical barrier. Unfortunately those parish records have NOT been microfilmed and need to be researched IN PERSON. The fact that the parish priest only visits Favale a few times a week adds to the complication of genealogical research. The Boschi family has been successful in their genealogical research in Favale by hiring Joel Cole of the Italian Genealogical Institute. We are looking for people that would be interested in connecting for a group research project. You would be able to submit an ancestor/s name (for a nominal fee) and our researcher would check the parish records for your ancestors birth. This would also give you the names of your ancestors parents. This would be the most economical way to do genealogical research since we can share travel expenses of the researcher. Please Contact US if you are interested in getting more details about this kind of genealogical research.
San Vincenzo Parish Archives
Joel has reported there are NO INDEXES in the old parish records for marriages, birth and deaths. Many of the old parish records are written in LATIN. Listed below is an inventory of the old parish books that are available: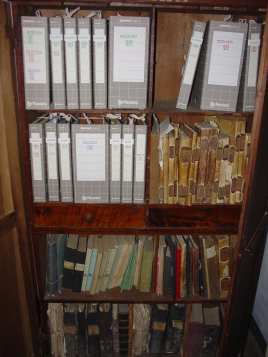 Bookshelf that holds the old parish archives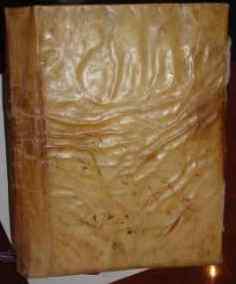 Old archive record book - fairly good condition
Baptismal Records
1) 1642 - 1690
2) 1691 - 1734
3) 1734 - 1761
4) 1762 - 1818
5) 1818 - 1837
6) 1838 - 1841 (Small book each year)
7) 1842 - 1847 (Small book each year)
8) 1848 - 1865 (Small book each year)
9) 1866 - 1893
10) 1894 - 1906
Marriage Records
1) 1643 - 1692
2) 1693 - 1741
3) 1742 - 1837
4) 1838 - 1865 (Small book each year)
5) 1866 - 1929
6) 1946 - 1957
7) 1958 - 1985
Death Records
1) 1642 - 1690
2) 1692 - 1739
3) 1838 - 1844 (Small book each year)
4) 1845 - 1865 (Small book each year)
5) 1866 - 1901
6) 1902
If you would be interested in joining us, to hire Joel to do research for YOU on our next Favale Research Trip, please Contact US.